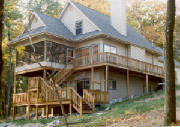 Background
Cabin on the Cove

It was back in 1996, that my my wife Jane and I began searching for a piece of property to build our retirement home. After looking for a year, we choose a half acre site on Kentucky Lake just North of Moors Resort. We approached a bank, got a loan, and began to plan for eventually building our home. After making payments for about a year, we realized that if we refinance our ten year "land" loan into a 30 year "home" loan, the payments would be about the same. So we found a floor plan we liked, and began building our house, which we named "Cabin on the Cove.".

The home was finished in June of 1998, and after a great summer of swimming, skiing and family get-to-gethers, we began to have friends and family ask to use "Cabin on the Cove" when we were not there. Ater much agonizing about having other people use our cabin, Jane and I decided if we could have other families use our home and enjoy it as much as we do, then we would let guests stay. And the truth is, with two children in college, having other families assist us in meeting the monthy payment certainly was a plus.
Now, we have a great group of families that come back every year, take care of our cabin, and in many cases have come to think of vacation trips to "Cabin on the Cove" as a family tradition.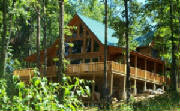 Background
Lake 'n Logs

Now we fast forward to 2002. My parents, Betty and Gail had left me and my sister, Barbara, a bit of money in their estate. Not much, but enough for a small downpayment on a piece of property. They also left us many memories of great family get togethers and the feeling that if possible, it would be wonderful to have a family site where my family, and Barbara's family of four children and many grandchildren could could enjoy the lazy summers and build family traditions.

So Jane and I, and sister Barbara, decided to purchase the lot next to "Cabin on the Cove." With Mom and Dad's small downpayment, and great assistance from our banker, we chose a floor plan and began construction of a cabin designed and milled by Southland Log Homes. We choose a log home because it fit perfectly on the wooded lot, and gives us very much of a "back to nature" feeling. We named the home "Lake 'n Logs."

It was completed in 2003. It has a loft with a great view, five bedrooms, three full baths, a half bath, a very modern kitchen area that looks over the "great room," a wood burning fireplace, and a walk-out basement you will have to see to appreciate. We think it is a perfect family lake house. Downstairs we have a foosball table, bar area, and a new shuffleboard table. We welcome our guests to come and enjoy the lake, and enjoy Lake 'n Logs.
A few years back, we built a firepit and seats between the two homes. It is for both homes to enjoy...so have fun and enjoy those smoores!
A one night stay at Cabin on the Cove is $390.00 during the summer, and $290.00 during off season.

Lake 'n Logs is $450.00 per night during the summer, and $350.00 during the off season.

Summer is defined as the period between Memorial Day and Labor Day. It does encompass those holidays.
We are required to collect a 3% Marshall County Tourist tax, and 7% Kentucky Tax on your stay.
There may be discounts available for longer stays during off season, please call me and we can discuss it.

To book either cabin please call my cell phone at 619.840.8337 (I also get text messages on my cell), or e-mail me at timlewis48@gmail.com We accept all credit cards and personal checks. I will be glad to talk to you.

Thanks, Tim and Jane